Early in the season, We were planning a trip to Alps for Haute route but the lack of snow in Alps plus the crazy storms in the Sierras made us abandon that plan and instead we signed up for this trip. Usually people do Rock creek to Mammoth in 3-5 days but this itinerary includes a longer route and a basecamp style tour to optimize skiing opportunities.
This trip was originally planned for first week of April but an AR event in the Sierras caused us to reschedule the tour to end of May. There was plenty of snow for us to do this in end of May and that indeed was the case. Howie had some family commitments so instead of him Geoff Unger was going to be our guide for the tour.
We met at Stellar brews in Mammoth at 5.30am to go over the logistics and gear check. Geoff shared with us the tour plan and gave few different options. We didn't make a decision right there about the route/camp locations etc and told him that our goal was to optimize the skiing.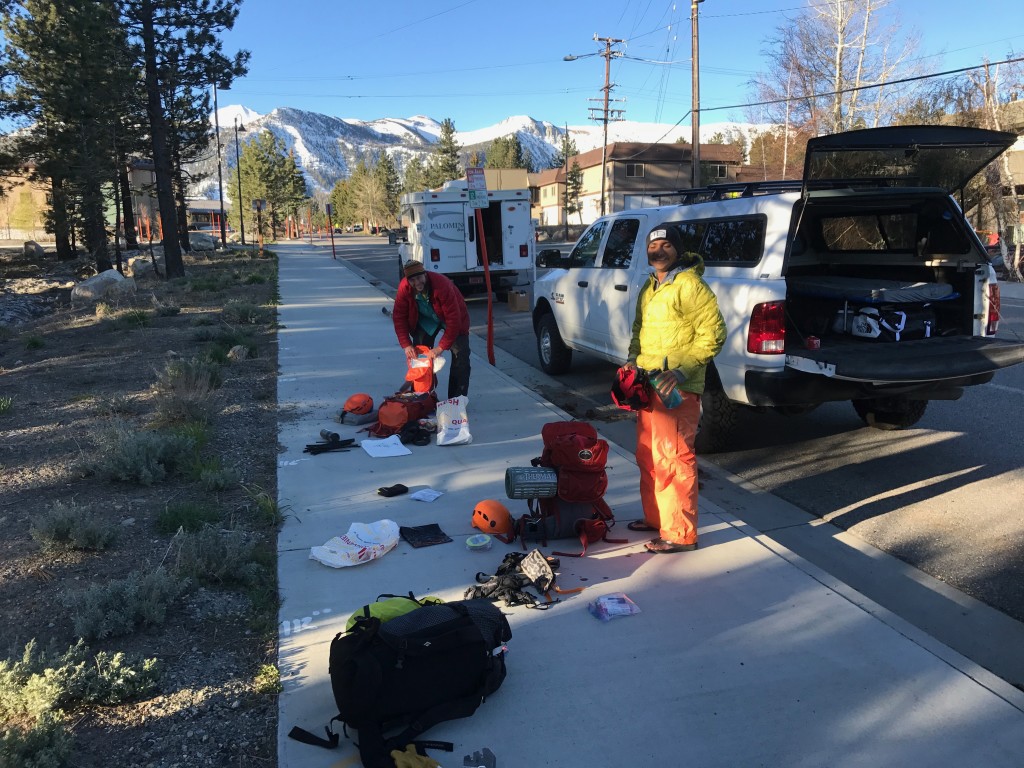 Pic courtesy Geoff
We drove out to Laurel lakes road and left Geoff's truck over there since Laurel-Boody Col was going to be our exit point, my car was left at Convict lake as backup and we drove Kyle's truck to Rock creek.
The road wasn't open all the way to mosquito flats because of the snow and seems like it won't be open for a while. We had two options for the day, either to camp at Treasure lake or Ruby/Mills lakes. Treasure lake would make more sense if we decided to go over Cox Col and If we choose to take Mono pass then the latter would be more convenient.
We decided to camp at Mills lake for couple of nights to ski in the area and then go over Mono pass. It took us about 3 hours to get to Mills lake as we slowly trudged over there. The skinning wasn't too difficult but with heavy packs and unacclimatized bodies we were quite slow. Luckily that wasn't the case for rest of the tour.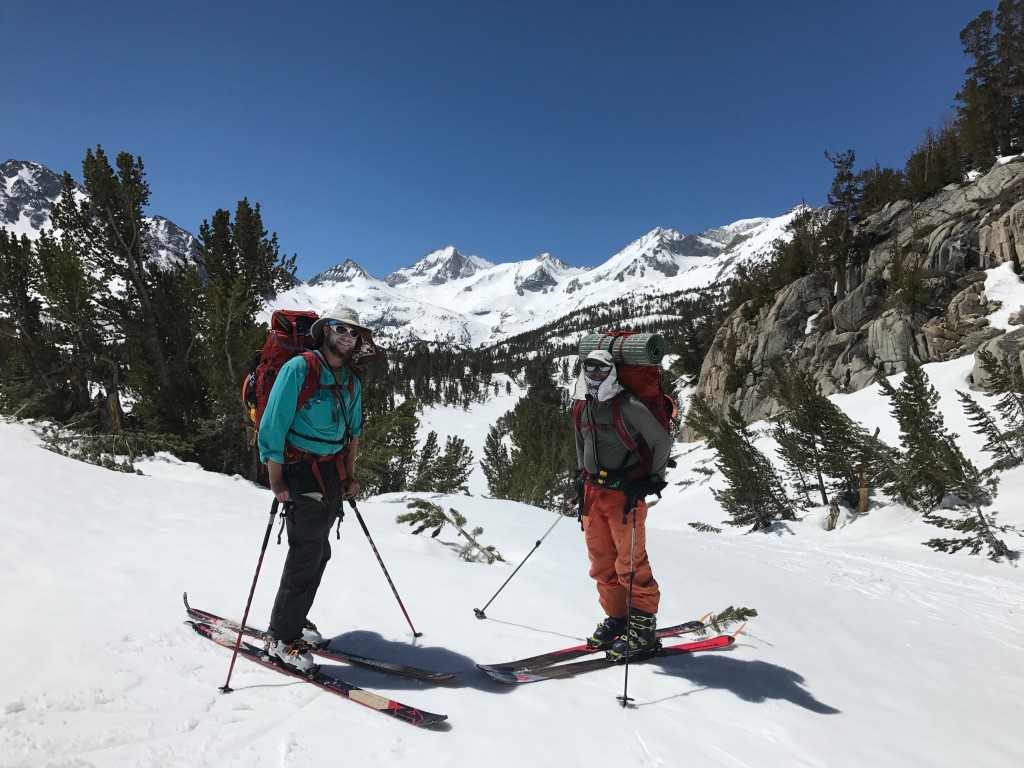 Pic courtesy Geoff
After we decided on a campsite location, we thought about skinning on the west aspect for some skiing but the time we completely established the camp it was too late. We were not carrying enough fuel to melt water for 8 days, we were counting on getting water from the melting lakes, so we decided to farm water by melting snow on a large rock and collecting it in a bag. It worked well specially on the second day and it gave us about a liter of water. Luckily for us at other camp sites the lakes had melted enough for us to get water and we didn't have to melt any snow for the rest of the trip.
For Dinner, Geoff had carried with him tasty bites and it was sign of things to come with regards to food. He planned the meals very well and it made the tour experience way better. Apart from different breakfast and dinner options, he planned a dessert, soup and snack/drink before dinner. The food selection and planning was icing on the cake. I would have gone crazy if I had to eat Ramen for 5 days straight like the Palisades tour.
Petit Griffon couloir was calling our name as soon as we got to camp and so we decided to head out over there for next day. I was mentally prepared to eat oatmeal for Breakfast for the next 7 days but thankfully due to awesome meal planning on part of Geoff that wasn't going to be case.
We headed out towards the couloir around 7am and in less than couple of hours we were at the base of the couloir and were going to boot up. The snow was variable with a crust on top and it wasn't firm so we didn't need our crampons. Geoff did majority of the work for the boot pack but me and Kyle helped out a bit to kick in the steps.
It was windy on top of the couloir so I didn't want to hang out for long and I wanted to start skiing as soon as I could. The couloir wasn't that steep but the snow was variable and little more firm on top with a small crust. I was the first one to start skiing, I am not yet totally comfortable in variable snow conditions and when I side slipped for my first turn there was some slough which ran down the couloir. It wasn't something to worry about but it certainly messed with my head and after few turns I took a fall as I was leaning more into the back seat.
Luckily the fall wasn't too bad and I was able to retrieve my ski easily and ski out of the fall line as I waited for Kyle and Geoff to ski. We skied out the rest of the run and regrouped, the couloir between Mt Dade and Abbott had caught our eye for the second run but as we got closer to it, it was lot steeper and it had a bergschrund too. It was similar aspect to the Petit Griffon couloir so the snow quality wasn't going to be anything spectacular hence we decided not to ski it.
Geoff suggested to ski the east face of Treasure col which could provide us with some good corn to ski. It seemed like a good idea even though it mean't we would ski down and then climb back up to get to camp. It would depend on the snow conditions on far we ski down, we were not planning to go all the way down to Treasure lake.
After first few turns the snow wasn't that great and I wanted to abandon this plan but Geoff and Kyle wanted to ski further down and I reluctantly agreed. To my surprise the snow quality improved a lot as we skied down and we got some awesome corn skiing in.
We dropped about 700-800 ft further and then decided to skin back up to the col to head to the camp. It was another easy skin out but I am not the fastest person on skins so I took my time to go up and I maintained a slow but steady pace which was nice. Once we got to the col, we had to take a high traverse to be able to ski back to camp and we got some good turns in as well.
At Camp, We saw a party of two approaching us and it was led by Ryan Heutter, guide from SMC. He mentioned that there were lot of cornices on Hopkins pass and it would make sense to over the Crocker col instead. We took his advice and decided to camp in Pioneer Basin area for the next night. We weren't sure if it was going for one night or couple of nights.
Next day we packed out and started heading over to Mono pass, there was a small steep section which we had to navigate and I thought for sure we were going to boot up this hill but Geoff had other ideas. We skinned up this section with our ski crampons on and with few interesting turns we were able to make it past this section. Kick turns are still a work in progress for me but Geoff mainly used AVA turns and It was nice practicing those.
The rest of the skin up to Mono pass was pretty mellow and we decided to skin farther up along the ridge so that we could ski over the pass and into the drainage. The skiing was really good and we were skiing through a lot of trees which was fun. We tried to traverse as much as we could but after a while we had to stop and skin up to Pioneer lakes basin.
After couple of hours we got to the lakes and found a pretty good campsite with bunch of rocks for us to chill on. We weren't sure whether to spend one or two nights here, East face of Mt Hopkins looked like an awesome run and we could ski from the summit.
We discussed our options and I would have liked to spend couple of nights at Big Mcgee lake to climb/ski east face of Red and White mountain but Geoff didn't think it was a good idea and shut it down. I was little disappointed but I totally understood where he was coming from. We weren't in best of shape and my skiing needs more work, plus we would be quite remote so we had to be conservative in our approach.
Since Red and White wasn't going to be an option, I figured why not spend couple of nights here and ski Mt Hopkins. We decided to roll with that plan.
Next day we got a late start than originally planned and we had to be quicker on our skin up to the summit so that we could reach it in a reasonable time before the snow got too mush and avy danger increased.
We hustled and were able to make it to the summit before the conditions got bad and it was easily the best ski run of trip. We hit it in absolutely ideal conditions and it was pure bliss of 1200 ft plus corn skiing. There was a steep section of the slope with a choke between the rocks which we had to navigate to get back down to the lakes.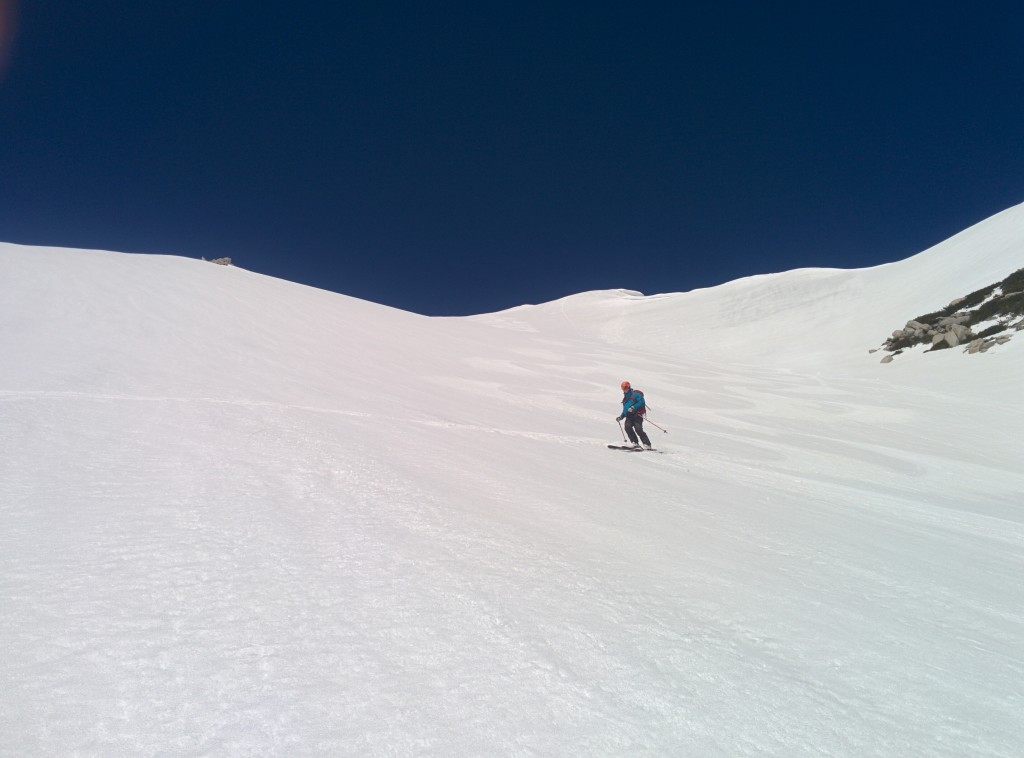 We side slipped this section with Ice axe in uphill hand to arrest the fall, It was a first for me. It took some time for me to get used to it and I gingerly made my way across it. It was a good learning experience.
We were feeling pretty good and decided to go for another run on the southeast slope which was going to hold good snow for little longer and if the conditions wouldn't be good on the skin up we could always bail. We started skinning up and I wasn't really sure about the direction we were headed in and after about an hour I would have been ok if we decided to ski back down.
Once again Geoff had other ideas and the main slope wasn't too far so we chugged along slowly. We had to go over couple of dirt patches and I wasn't thrilled to carry the skis but it was soon going to be over. Once we got to the slope which was going to be our ski run, I stopped while Geoff and Kyle carried on to get to the high point. It wasn't too far but the lazy me decided not to go all the way to top.
Once again this was an awesome corn run and I didn't feel bad about missing out on few more turns. This time there wasn't a choke to navigate but we had to go over some bushes which wasn't too bad. We were back at camp at around 1pm which mean't there was plenty of time to chill on the rocks, dry out our stuff and take a nap.
Our next day move to Big McGee lake was going to be a longer move so we decided for an early start and we were off at around 6am when the first light hit. It was little chilly with the wind blowing, I was feeling really great and was able to keep up with Geoff for the mellow skin to the Crocker col. Geoff himself was surprised but the cold air started messing with my lungs as we were about to reach the col. Geoff suggested to use the cough drops and that really helped me.
The other side of the col had the steepest pitch of the trip so far and it was definitely going to be an interesting ski down with loaded packs. Geoff demonstrated how it was going to be done, we were going to side step into the slope while using ice axe for arrest and once we got to a stable position it was time to ski. Geoff and Kyle made it look easy and for me it was a different story.
I didn't have any issues side stepping into the slope and felt fairly comfortable with the technique of doing so using my ice axe. I switched to ski mode and the steep slope combined with heavy packs brought out all the bad habits in me. I was dropping my uphill hand and leaning into the backseat which caused me to almost crash and burn on this steep slope but instead of a horrific crash it was sliding down the slope from which I was able to recover.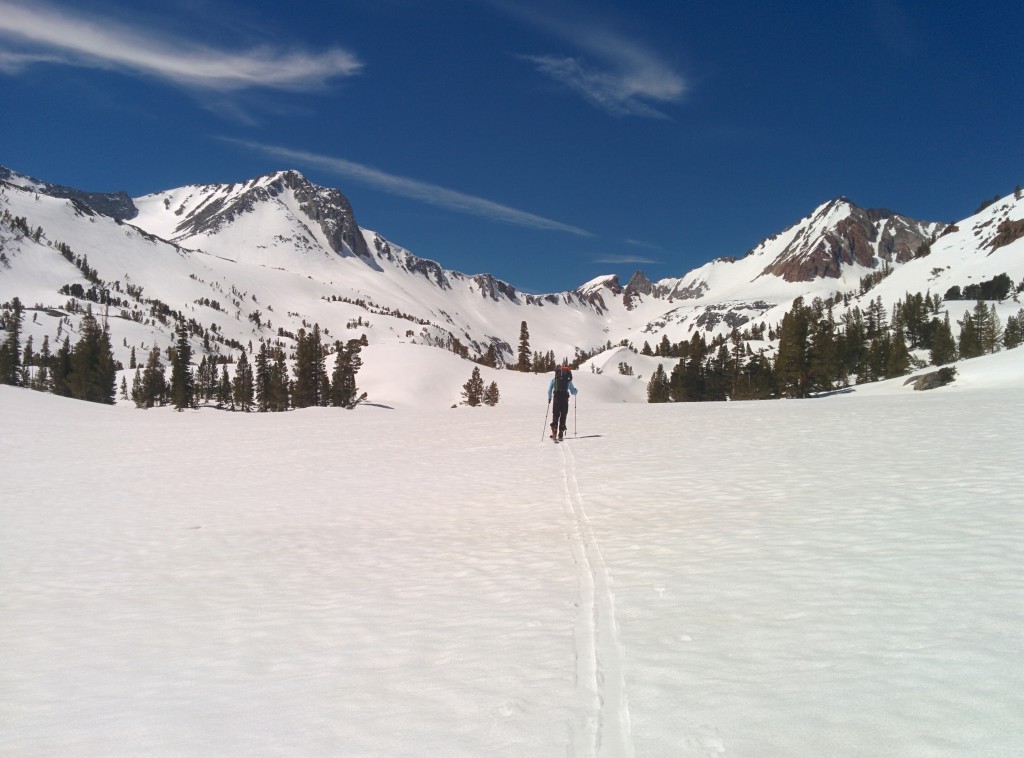 After that fun adventure the slope got mellow and the skiing continued for a while before we had to start our skin up to Big Mcgee lake. Once we got to the lake and chose our campsite location, we decided to skin up with our day packs for some more skiing. It was another fun corn run back to the camp and we established a skin track for next day's move to Lake Genevieve. We were done at around 2 pm so again there was going to be plenty of time to relax.
We knew that we had to move camp next day but at the same we were considering doing some skiing along the way before getting to camp, there wasn't a final decision made but the option was open. We wrapped the camp and got going when the first light hit and were moving at a pretty good pace. We got into the "corridor" of Corridor pass and there was a run on south side of Red and White which was tempting. However the snow was firm and we were moving quickly because of it and we had to cross few lakes to get to Lake Genevieve so we wanted to take advantage of firm conditions.
Skinning/Skating over frozen lake would get difficult/slower as the snow softened so we decided not to ski and get to camp as soon as possible and go for a ski run from camp. The snow on other side of corridor pass was firm but manageable and in another few hours we were at Lake Genevieve. It was little tricky to find the optimal path but Geoff did a great job.
North couloir on Red Slate was one of the my goals before the trip but one look at it and I knew I am not ready for it yet. It is something that I definitely want to ski in future but it will take some time for me to get ready for it.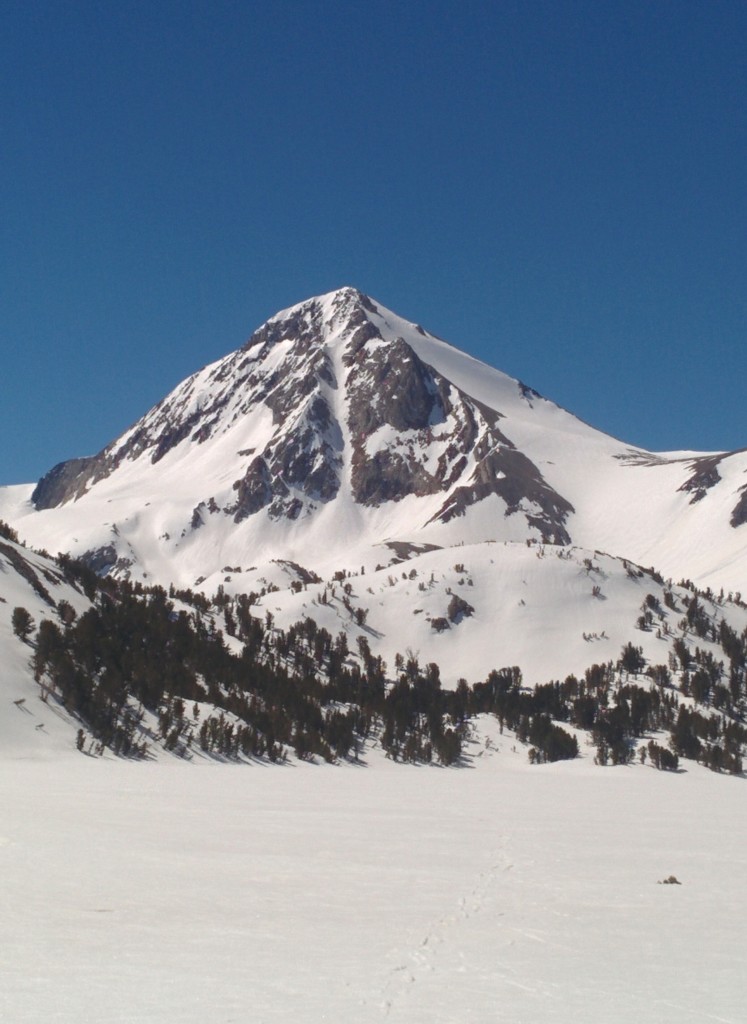 Once we got to Lake Genevieve, we established camp quickly and headed out to Laurel col for another quick ski run. This was going to be our exit on the final day and tomorrow we planned to ski south face of Bloody Mountain. The ski from top of the run to our camp was another fun corn run and once again we had half of the day to rest at camp.
We decided to ski the line from summit of Bloody and the climb was going to be almost 2.5k so it was crucial that we started super early and in order to achieve that we packed all our things in evening so that we could get going as soon as possible. Next day, we woke up to a windy morning at 3am and we were on our way well before 4.30 am. It was the first time we started in the dark and after about an hour of skiing it was time to boot in our crampons. The snow wasn't exactly firm and we were punching through it up to our shins but we didn't have any choice. We skinned up as high as we could and had to now boot up because of the steepness of the slope.
We gained the ridge in couple of hours and now it was matter of continuing along the ridge, we were doing pretty awesome in terms of time and once we got to the ridge we took it slow. It was quite windy and little overcast but at the same time we had to be mindful of the sun since once the sun hit the slope the snow would quickly turn into mush so we got to the snow line ready for the cloud cover to disappear but it took quite a while.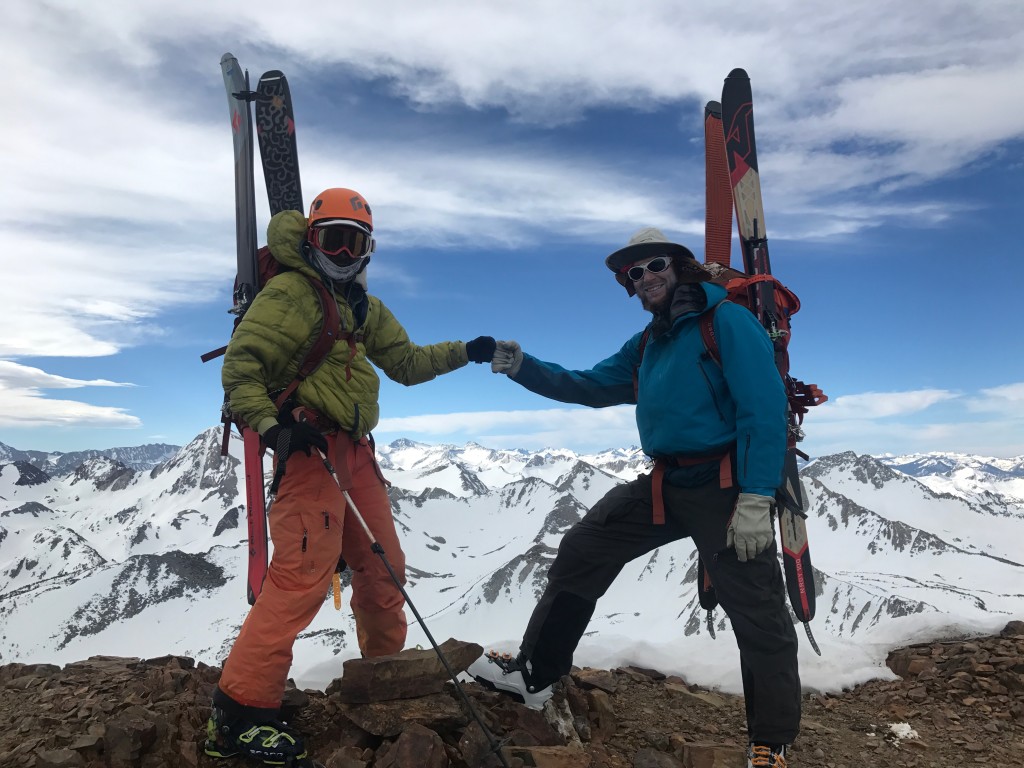 We waited for almost half hour at the top and finally lost patience and decided to start skiing which wasn't a great idea since the snow was quite firm and we had to be careful on the steep sections since a fall mean't it would be slide for life conditions. After descending few hundred feet we decided to wait again since it seemed like the clouds would disappear and after 15 mins or so that was the case. It took only about 10-15 mins of sun to soften the snow and it was pretty good corn skiing.
The lower part of the slope had softened up a lot more and the top layer was definitely going to slide so Geoff went in first and trigged small slides to get rid of the top layer of snow. After that with one turn we were able to navigate the slope and it was an awesome learning experience in slough management.
After getting back to camp and relaxing for a bit we decided to go for another ski run if the conditions permitted but once we started skinning the snow had a layer of crust already developed so we decided to turn around, the skiing wasn't too bad but we had enough for the day. Back at camp, we talked about practicing some skills later in the day and Geoff went over crevasse rescue techniques with us. It was a nice refresher for me since I had somewhat forgotten about the 3:1 pull system and we practiced escaping from climbing belay too.
It wasn't going to be an early start next day, the wind picked up and was howling at us for whole night. Next day, we skinning up back to the ridge to drop below the Laurel-Bloody col and while we were taking a break Geoff's jacket got blown away by the wind. It went up and down the slope along with the wind and took sometime to get caught in the rocks. It was a trek for him to get the jacket and if it was me, I would have given up in its quest.
We had to navigate some trees and stuff to get to the Laurel lakes road and the hike back out was lot longer than I expected. It wasn't hard but just longer than what I was expecting. We skied as much as we could and got back to Geoff's around 1pm. We picked up my car, Kyle's car and after showering celebrated this awesome tour at Liberty bar in Mammoth.
This trip wasn't as difficult as Palisades tour but at the same time we skied a lot and the quality of skiing was definitely better. I learned a lot from it, knowing my limitations, pushing myself a bit, and overall getter better in the art of Ski mountaineering.