I had signed up for a 2 day private ski clinic with Howie, owner and lead guide of Sierra Mountain Guides a long time in advance and the goal was to get better at skiing steep terrain along with practicing some rope work, build anchors etc.
We decided to meet at Mammoth Mountain around 9 and work on skiing in bounds before heading out in backcountry. It was early ups at Mammoth so it made sense to have breakfast there and maximize skiing time at Mammoth while working on my skiing technique. I met Howie and while we were discussing our plans and goals for the weekend, Glen Plake came over to say Hi to Howie. Howie invited Glen to join us if he didn't have any plans and he agreed. I couldn't believe it, I was super stoked about it and it turned out to be even better than I imagined.
We started off by doing a warmup down stump alley and then headed over to chair 23 to drop into Wipeout Chutes. The first thing Glen mentioned to me was my body position mainly my head which needed to be over my legs and facing the fall line along with position of my hands. We practiced a drill trying to get my hands into the right position, I was going to hold my poles upright in front of me and create a window with them. The window was going to be in front of me all the time while skiing. I know its something that I need to work on specially my left hand which I was dropping while skiing steeper slopes.
On the next run we worked on initiating a turn on a steeper slope, basically it involved doing a pizza with your uphill ski and pushing it down the slope to initiate the turn. Glen also talked about initiating the turn by applying pressure on the uphill ski at the beginning of the turn instead of middle of the turn and I was so focussed on it that I wasn't finishing my turns. We worked on another drill to emphasis this point and it involved skiing on one ski. Without using poles or the other ski I had to balance myself and initiate turns using only my uphill ski. Glen made it look so easy and of course I failed miserably at it. It is something that I really need to work on for balance as well.
The next thing we were going to work on was controlling the turn on steeper slopes and for that we headed over to paranoids. The goal was to come to almost a complete stop at the end of the turn in a controlled fashion and the way to do it was to make sure that everything we talked about earlier was taken into account along with the body position at the end of the turn. At the end of turn your body position should be such that you are able to grab your toe bindings, its an exaggerated notion but the idea is to be in that position to be able to really control your speed and turns in steep terrain.
Glen and Howie made like 6-7 turns and I only managed to 3-4 and without much control. To make things more interesting, We decided to head over to philippes, one of the steepest runs at Mammoth. On top of the run Glen asked on how I would proceed and I mentioned that I would go to the less steeper section of the run and make my turns there but what if there wasn't a less steeper option available. Glen showed me a technique called Baton Ramasse, which essentially is side stepping into the couloir and holding the base of the pole in your uphill hand to jam into the slope. The idea is that if you start to slip then you can hold your fall using the poles.
I gingerly side stepped into the run and got more confident as I started side slipping using Baton Ramasse. For good measure even took a selfie and then it was time to make a turn and put into practice what was explained to me and this time I felt much better about it. Not perfect by any means but way better. We stopped in a sheltered spot to allow people go past us and saw a gnarly crash in star chutes, the guy was lucky to escape without significant injuries. We skied down to Main lodge and Glen headed over to his trailer to prepare for afternoon's adventure.
We were going to take his snowmobile out on the San Joaquin ridge and make some turns in the backcountry. I headed over to the house to collect my backcountry gear and then drove over to main lodge to meet Glen and Howie. Stacey Cook was going to join us for this tour as well. Glen towed us all the way to the top of Minaret Vista with his snowmobile, it was a fun and interesting experience. For the final stretch he gave me a ride to the Deadman summit and then towed Howie and Stacey.
Glen and Stacey skied a more technical line while I followed Howie to a more mellow line, the snow was variable and it was throwing me off. I had a hard time putting into practice what we had discussed earlier and there was small section where I was feeling great but as soon as the snow got variable I was thrown into the back seat and didn't have as much control.
We skinned back up for another run and as expected I was the one lagging behind in the group, I took my sweet time but thankfully it wasn't too sweet. There was some talk about dropping in a different direction and it would mean that we would be doing 3 runs and I was getting tired so I would have said no but time was also not on our side. The second run was much better for me and it was partly because of the aspect and snow. It was perfect corn and I was linking my turns pretty well and placing emphasis on all the things that we had talked about earlier in the day.
It was time skin back up to the snowmobile and ski back out. Glen towed us on some of the uphill sections of the ridge and the road. We got back to Main lodge and around 5pm and then went over to Yoddler for some food. Stacey didn't join us but it was fun having conversation with Howie and Glen on all sorts of topics. It was perfect way to end a day of epic adventure and definitely experience of a lifetime to learn some aspects of steep skiing from the authority on the subject, Glen Plake.
For the second day we decided to work on some technical stuff and rope work. We decided to meet at convict lake and take it from there since it has lot of options to choose from. I met Howie at the Convict lake trailhead and figured it would be nice to go out for a tour and learn stuff instead of finding a steep pitch. I was feeling little tired from yesterday and would have liked to pick a spot with the least amount of approach but I figured why not go out for a tour and get more touring experience.
We chose to head over to Black peak via old mans bowl. First half an hour so of the skinning was going to be in shade and some hard snow so we decided to put on our ski crampons from the get go. I wasn't too confident skinning up a steeper line so I had to ask Howie to take a lower angle track but we decided to focus on my technique rather than taking the easy way out. Sometimes I have difficulty with my kick turns where I don't put out my uphill foot far enough for the tail of my ski to be closer to my downhill boot, Howie showed me a technique to slide my ski using my poles to get the uphill ski in better position. It worked like a charm, I just need to practice on my kick turns, use this technique and do more yoga for flexibility 🙂
As we started skinning up the bowl, I started to fall more and more behind. My legs were starting to get really sore specially the quads, after a long break I asked Howie if we could skip the peak and practice the skills somewhere else. He mentioned that I was lifting my skis while skinning instead of sliding them forward which could be causing my quads to be really sore. I have to make a mental note of it and not makethe same mistake again. We got to the saddle between Mini Morrison and Black peak and found a nice steep section where we could build an anchor and practice some descending techniques.
We talked about different options to build an anchor and ended up building one by wrapping a cordelette around a rock and burying it like a deadman. The next step was how to drop into a steeper slope using different techniques. Howie demonstrated them to me one by one and then I dropped in to practice. The first was simple technique using a arm wrap and putting the rope over the neck and the key was to straighten the arm to be more comfortable. We had used this technique on Sawtooth's traverse. The next way was to pass the uphill rope through a carabiner in the belay loop of the harness, this puts more pressure on the neck but also feels lot more stable. It was now time to use belay device and side slip down and another way would be to get in a regular rappel position to descend.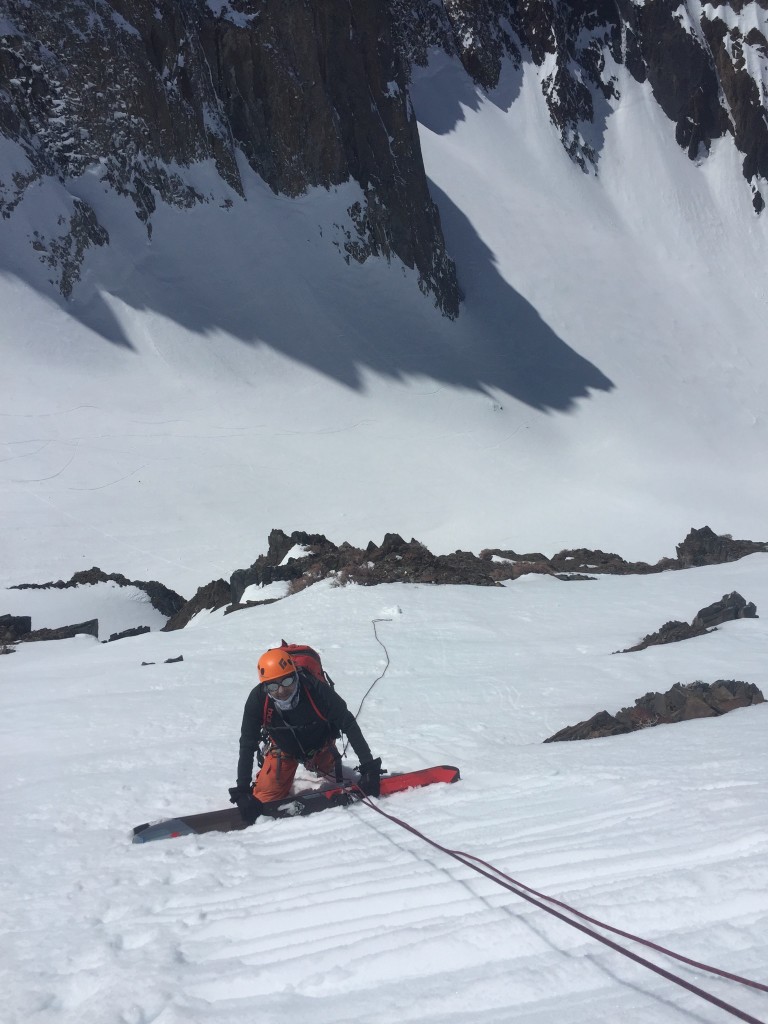 We then moved to creating anchors using our skis and practiced creating H, I anchors along with some techniques of building rescue sleds using skis, shovel etc. It was now time to wrap up and enjoy some really awesome corn skiing. Once we got more than half way down, I was tempted to back up for another run but it was getting way too late in the day.
Overall, It was a great weekend of learning and skiing from the best people that I could learn from. Now, I just need to keep on working on my skiing and get better at it one turn at a time.